Sour Curry with Fish Recipe (Gaeng Sohm Plah)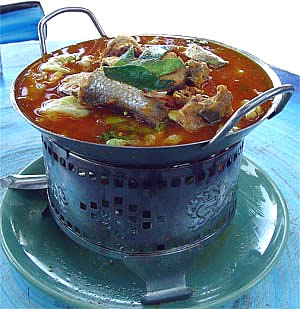 This variation of Thai sour fish curry recipe departs from a traditional Gaeng Sohm Plah recipe by including pickled pepperoncini, which are readily available in the supermarket. It's a surprisingly delicious fusion dish, melding East with West but be sure to use the freshest fish possible.
Ingredients
7 small oval flat fish (about 1 lb); clean but leave head and bones intact; salt generously with sea salt and let stand refrigerated for 1 hour or overnight
1 Tblsp. sour curry paste (or homemade, see our recipe below)
1/2 cup water plus approximately 3 cups
7 pepperoncini salad peppers, cut in half
3 oz of the pickling liquid from the pepperoncini
Fish sauce to taste (Golden Boy brand is preferred)
Preparation
Mix the curry paste in a small bowl with 1/2 cup water to dilute.
Rinse excess salt from fish. Place fish in small cooking pot.
Add the diluted curry paste.
Add just enough water to cover the fish, the water reaching about 1 inch over. The amount of water needed depends upon the size of the fish, but don't add too much.
Bring to a boil over high heat. Reduce the heat to medium high, cooking at a low boil (not a simmer!).
Add the pepperoncini and the pickling liquid.
Boil until the fish is opaque, i.e. just cooked.
Taste and add fish sauce to taste.
Serve over steamed Thai jasmine rice. You may reduce the amount of curry paste if you prefer it less spicy.
Serves 3 to 4.
Sour Curry Paste
Pulverize to a fine paste, preferably in a Thai granite mortar and pestle, the shallots, chili peppers, sea salt and turmeric. This takes approximately 10 minutes (or longer if you are inexperienced). When the chili pepper seeds are no longer visible, add the shrimp paste and blend to combine.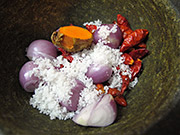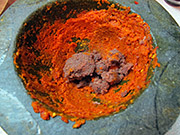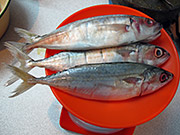 Try some other Thai curry recipes: