Chiang Mai Curry Noodles with Chicken (Khao Soi)
Northern Thai Chicken Curry served over Chinese Egg Noodles
Khao Soi (or khao soy) is a type of curry popular in the North of Thailand, where many restaurants specializing in this dish can be found, especially in the ancient city of Chiang Mai, one of the most popular tourist destinations in the country. This coconut milk based soupy curry is usually made with chicken or beef and served over Chinese egg noodles garnished with crispy fried noodles, pickled mustard greens, shallots, lime, sweet soy sauce and spicy chili oil.
Ingredients: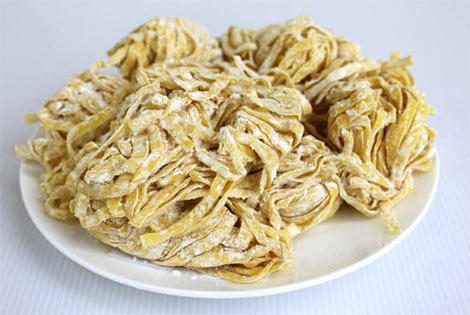 Paste Ingredients:
Additional Ingredients:
Preparation:
Blend the Paste Ingredients together and set aside.
Over medium high heat, put 1/2 cup of coconut cream into a wok and fry for 3-5 minutes, stirring continuously, until the coconut oil begins to separate out. Add the prepared paste and fry for 1-2 minutes, stirring constantly. Add the chicken drumsticks, water, remaining coconut cream and half the coconut milk. Bring to the boil, add palm sugar along the side of the wok until it melts, followed by the white sugar, soy sauce and fish sauce. Simmer over low heat for about 30 minutes or until chicken is tender. While simmering, if it becomes too dry, you may add more coconut milk or water.
Meanwhile heat the oil for frying the egg noodles in a wok over medium heat and when it is at almost smoking point add 1/2 cup of egg noodles and fry until crispy and just lightly brown (30 seconds). Strain (we recommend the Brass Strainer Skimmer) and set aside.
For the chili oil, heat the 3/4 cup oil in a small saucepan and when it is hot add the chilli powder. Stir together and immediately remove from the heat. Set aside to cool.
When you are ready to eat, lower the remaining fresh egg noodles into boiling water to cover, separating the strands of noodles as you add them. Boil for 2 minutes, then drain and portion into 4 individual serving dishes. Top with the chicken curry and serve garnished with the crispy egg noodles, coriander leaves and spring onions.
Serve along with the accompaniments, which are added to taste. Use only 1-2 drops of Sweet Soy Sauce per portion. Serves 4.
*Chinese Egg Noodles: fresh Chinese egg noodles can be found at your local Asian grocery in major cities. You can substitute dried Western-style flat egg noodles (i.e. good quality fettuccine) for the main part of the dish and top with ready-made crispy Lo-Mein noodles.
**Or you may use a small whole chicken. We recommend free-range chicken as this is a longer stewing dish than more typical types of quick cooking Thai curries.

Passion for Thai Cooking
Recipe adapted from Passion for Thai Cooking produced by the Chiang Mai Thai Cookery School & available in our store.
Shop for Thai food & Asian kitchenware!
Recipe & Image Copyright © 2000 Sompon and Elizabeth Nabnian, Chiang Mai Thai Cookery School and Additional Images Copyright © 2010 Temple of Thai
More Khao Soi information & recipes on the web: