Thai Yellow Curry with Chicken Recipe (Gaeng Karee Gai)
This yellow curry recipe is quite similar to Indian curries as it is made with the addition of curry powder. It is a creamy coconut milk based curry with potatoes making it popular with travelers in Thailand who are missing their native food. If you like, you may make this curry using chicken legs instead of chicken breast.
This type of curry is traditionally served with a type of cucumber salad that s commonly served in Thai restaurants in the West.
Ingredients
Cucumber Salad Ingredients
90mls (6 tablespoons) sugar syrup
30mls (2 tablespoons) white vinegar
4 tablespoons cucumber, thinly sliced
20g (11/2 tablespoons) ground, roasted peanuts
1 shallot - thinly sliced
1 tablespoon fresh coriander leaves - chopped
A few slices of big, red chilli
Preparation
Put the thick coconut milk into a wok and fry for 3-5 minutes stirring continuously, until the coconut oil begins to separate out. Then add the yellow curry paste and the yellow curry powder and fry for 1-2 minutes.
Once the paste is cooked, add the chicken and potato and cook until the outside of the chicken turns white. Then add the thin coconut milk and bring to the boil. Add the palm sugar along the side of the wok until it melts and then add the soy sauce. Simmer for about 5 minutes until the chicken and potato are cooked.

Mix the ingredients for the sauce together and serve with the yellow curry.
Serves 4.

A Passion For Thai Cooking - Chiang Mai Cookery School
This recipe and many more quality Thai recipes can be found in the cookbook A Passion For Thai Cooking by Chef Sompon Nabnian. This title is available in our Thai Cookbook Store.
Also See: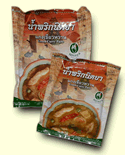 Preparing your own yellow curry paste gives the best results but there isn't always time...
Nittaya curry paste is a quick and simple alternative. It's the best prepared curry paste we've tried and if you love Thai curries we're sure you'll agree.
"intensely delicious curries without the effort." ~ epicurious.com
Discover authentic Asian cookware: sticky rice steamers, granite stone mortar and pestles, and fruit carving tools. Check out imported cookbooks offering recipes ranging from introductory to advanced levels. Visit our Kitchen for authentic Thai recipes including Pad Thai, curry & sticky rice. Find cooking information, descriptions, photos and cooking tips. Welcome to the Temple of Thai-online Asian food!
Recipe & Image Copyright © 2000 A Passion For Thai Cooking by Chef Sompon Nabnian, Chiang Mai Cookery School