Panang Curry with Beef Recipe (Kaeng Phanaeng Neua)
Panang curry takes it name from the city island off the West coast of peninsular Malaysia, Penang, or Pulau Pinang in Malay. This type of curry is richer, sweeter, and creamier than the more herbal Thai red curry or green curry, making it very popular with westerners.
Peanuts, a unique ingredient in this recipe, are found in only one other Thai curry, Masamam Beef is the most famous type of Panang curry but chicken, pork, fish or even liver can also be delicious (though with adjustments to the curry paste). Vegetables are not usually added to Panang curry, but tiny bitter green eggplants could be a possibility. This is a drier type of curry more like its Indian cousins, with just enough sauce to cover the meat.
If you are pressed for time try using a ready made curry paste like Nittaya brand or see an authentic Thai panang curry paste recipe. To save even more time double up the recipe since curries freeze very well.
Ingredients
1 1/2 cups (10 oz, 300 grams) beef, pork fillet or tenderloin, thinly sliced
2 cups (16 floz, 500ml) thick coconut milk - reserve 2 tablespoons (30 mls) to use as a garnish
4 tablespoons (100 grams) homemade panang curry paste or ready-made
2 tablespoons (40grams) palm sugar
2-3 tablespoons (30-45 ml) Thai fish sauce
7 kaffir lime leaves - 3 torn into pieces, discarding the stem and 4 finely shredded
1/2 cup (1/2 oz, 30-45 ml) fresh sweet basil leaves
1 big red chilli, sliced
4 tablespoons roasted ground peanuts (optional)

Passion for Thai Cooking Cookbook
This recipe is adapted from the beautifully photographed Passion for Thai Cooking cookbook.
This title is available to buy in our Thai cookbook store.
Preparation
Put half of the thick coconut milk into a wok and fry for 3-5 minutes, stirring continuously, until the coconut oil begins to separate out. Then add the panang curry paste and fry for 1-2 minutes. Once the paste is cooked add the meat and cook until the outside of the meat is cooked. Then add the rest of the thick coconut milk and bring to the boil. Simmer and add the palm sugar along the side of the wok until it melts and then and add the fish sauce and kaffir lime leaf pieces. Stir to combine and then add half the basil leaves. Turn off the heat and serve garnished with the shredded kaffir lime leaves, red chillies, remaining basil leaves and remaining coconut milk.
Serves 4.
Cook's notes: Serve over spaghetti instead of jasmine rice for a fusion dish. Roti bread is another possible accompaniment for this rich Indian-type curry. Or for a very Thai taste, serve with boiled salted eggs. For a festive occasion serve in crispy golden cups, called Krathong Thong, topping with kaffir lime leaf shreds and red chilies. If you decide to use pork, use less curry paste, as pork is less strong in flavor compared to beef. Additionally if you substitute chicken for the beef, red curry paste would work better as it will not overwhelm compared to Panang curry paste, made with stronger roasted spices (thanks to Kasma Loha-unchit for these final recommendations!).
Recipe © 2000 Sompon and Elizabeth Nabnian, Chiang Mai Cookery School. Photo © Temple of Thai 2010.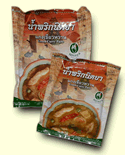 Preparing your own curry paste gives the best results for an authentic and delicious panang curry but is very time consuming. So if you need your curry in a hurry and don't wish to compromise on taste, we recommend our ready-made
Nittaya
brand
Panang Curry Paste
.
Nittaya is a delicious, quick and simple alternative to preparing your own curry paste. It's the best prepared curry paste we have tried here and as a fellow Thai curry lover we're sure you'll agree.