Krathong Thong Mold

,

Imported from Thailand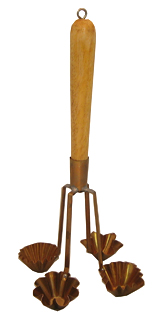 Krathong Thong (aka Gratong Tong, Golden Flowers) is a popular type of Thai appetizer. These light crispy golden cups are filled with various savory fillings.
Krathong Thong means golden cup in Thai. To prepare the cups, a special brass mold with a long handle is used. Dipped in heated cooking oil and then into a egg-yolk, coconut milk and flour batter, the thin shells that form around the mold are fried in hot oil to create pleated golden cups.
There are many recipes for fillings, including shredded pork and prawns, mixed with sliced young corn, coriander root, garlic, pepper and fish sauce. See our recipe below for Krathong Crispy Golden Cups.
Just before serving, the cups are filled and garnished with slivers of red chillies and coriander leaves. Fill the cups immediately before serving to retain the crispness of the pastry.
The dimension of each brass cup is approximately 1 5/8" to 1 3/4". There are 4 different cup shapes. Wood handle length approximately 6" long including the hook for hanging. Length 10 1/2".
Krathong Crispy Golden Cups
1 cup white flour (wheat, not rice flour)
1/2 tsp salt
1 small egg yolk
1 egg
8 oz water
Oil for deep frying
Golden Cups

In a large bowl, mix the flour and salt. Break in the egg and mix well. Gradually add the water, stirring constantly until you have a thick batter. Allow to stand for one hour.
Heat the oil for deep-frying, dip the mold into the oil, remove and shake off as much oil as you can. Then dip the mold into the batter to coat the outer surface and return it to the hot oil. After 20 seconds the case should shake free. Cook until golden brown. Remove, drain on kitchen paper and set aside. Repeat the procedure until all the batter has been used.
Fill cups with filling immediately before serving.
Filling
1/2 lb ground shrimp
1/2 cup carrot
1/2 cup onion, diced
1/2 cup green beans, diced
1/2 cup water chestnuts, diced
1/2 cup mushrooms, diced
1 tbsp chopped garlic
2 tsp ground black pepper
2 tbsp palm sugar
2 tbsp soy sauce
Stir fry garlic in vegetable oil until golden brown. Add ground shimp and cook until pink.
Add carrots, onion, green beans, water chestnuts and mushrooms; stir-fry until cooked.
Season with palm sugar, pepper and soy sauce.
Stir-fried until dry.
Availability: Ships in 2-3 business days from Los Angeles, California.
Category: Asian Cookware, Thai Dessert Cookware
SKU: 6213000342