Kaffir Lime Leaf

,

Temple of Thai

, 1.5 oz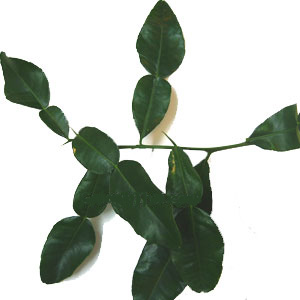 Fresh Kaffir Lime Leaf (citrus hystrix, Thai wild lime, or ใบมะกรูด bai my magroot in Thai) is an essential aromatic herb for Thai cooking. Leaves grow in thorny pairs on the kaffir lime tree, which also bears a wrinkled dark green fruit (available here also).
Add whole, julienned or torn leaves to curries, stir fries, salads and Thai soups like Tom Yum towards the end of cooking. To prepare slice stacked leaves crosswise very finely and add to meat salads, curry pastes and fish cakes or simply crush when adding to soups and curries. Fresh kaffir lime leaves are a good substitute for kaffir lime peel when combined with fresh ordinary lime peel.
Fresh kaffir lime leaves, properly stored in a plastic bag, stay fresh in the vegetable bin for about one week. Freeze for up to one year, with no need to defrost before using or dry if desired. Because this fresh spice is rarely available in local retail stores or markets, stocking up and freezing it is a good idea. We think that our kaffir lime leaves are of particularly high quality, the leaves being big and thick. We receive our kaffir lime leaves directly from the farmer each week and they are normally shipped to you within days of being picked from the tree.

Kaffir lime leaf is an antioxidant with cancer-preventing properties, being high in beta-carotene. It is one of the main ingredients used in Thai herbal compresses (used in Thai massage). Useful for the treatment of colds, congestion and cough, try adding to Tom Yum Chicken Soup.
See Thai recipes using kaffir lime leaf: Tom Yum Chicken, Tom Yum Shrimp Soup and Green Curry.
Dried Kaffir Lime Leaf is also available in our spice section.
Kaffir lime leaves are also available as part of a set, Fresh Tom Yum Soup Set and in one pound bags. Also see fresh Whole Kaffir Lime Fruit.
PLEASE READ OUR FRESH PRODUCE TERMS OF SHIPPING BEFORE ORDERING THIS PRODUCT. In the winter months, kaffir lime leaf will only be shipped on Mondays due to limited availability.
Ingredients: Fresh kaffir lime leaves. Grown in California, USA. Approximately 60-80 leaves per ounce.
Availability: Ships in 2-3 business days from Los Angeles, California.
Category: Fresh Produce
SKU: 8200000142