Thai Fish Cakes Recipe (Tod Man Pla)
Fried fish cakes make a great snack on their own dipped in either with a cucumber relish (recipe below) or sweet chili sauce or sriracha. Ground fish is spiced with fresh kaffir lime leaf and red curry paste and fried. You can make your own red curry paste (see below) or you may use ready-made. Serve as an appetizer or along with any rice-based meal.
Fish cakes are traditionally made in Thailand with a type of ocean fish known as featherback fish, but you may substitute any firm white-fleshed fish, such as cod. Fish cakes are also traditionally pounded by hand but a food processor can speed up the task, though the texture will not be quite the same.
Red Curry Paste Ingredients
Other Ingredients
Seasoning Sauce Ingredients
Curry Paste Preparation
Pound curry paste ingredients except shallot, garlic and shrimp paste in a mortar finely. Add shallot and garlic and continue pounding finely. Add shrimp paste last and pound finely again.
Fish Cake Preparation
In a mixing bowl, mix together 1/2 cup of water with a 1/2 teaspoon of salt. Dip your hands into the salty water. Then beat the fish fillet against the side of the bowl and beat until it turns sticky. Mix the curry paste into the pounded fish fillet. Continuing beating for 5 minutes.
Add seasoning sauce and pound together for another 3 minutes. Add egg yolk and pound for 2-3 minutes. Add the beans and kaffir lime leaves. Mix well together. A food processor may be used instead of doing it by hand.
In a mixing bowl, pour 2 tablespoons of vegetable oil. Coat the palms of the hands with vegetable oil. Shape fish into flat small balls 2 inches in diameter. In a wok, heat vegetable oil over medium heat. When hot, flatten the fish balls into a cake and deep-fry over a low heat until golden. Remove from a wok and allow to drain on paper towel.
Serve with Sriracha chili sauce, sweet chili sauce or cucumber relish.
Cucumber Relish Ingredients
Cucumber Relish Preparation
In a mixing bowl, add vinegar, salt, sugar and red spur chili. Mix well together. In a saucepan, bring sauce mixture to a boil over medium heat for 2-3 minutes or until sugar is dissolved. Allow to cool. Serve in a small bowl, sprinkled with roasted peanuts and coriander leaves.
Recipe Copyright © 2010 Temple of Thai Image © 2010 Piyachok/iStockphoto.com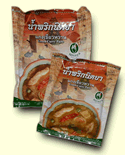 Preparing your own curry paste will give the best results but is very time consuming and not always possible. So if you need your curry in a hurry and don't wish to compromise on taste, we recommend our ready-made
Nittaya brand Green Curry Paste
.
Nittaya is an excellent, quick and simple alternative to preparing your own curry paste. It is the best prepared curry paste we've tried and as a fellow curry lover we're sure you'll agree.