Shrimp Paste

,

Pantainorasingh

, 13 oz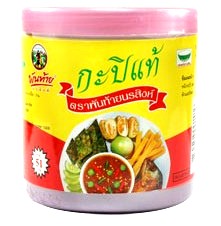 Shrimp Paste (kapee in Thai) is made from ground preserved tiny shrimps. In Thailand there is a wide range of pastes varying in strength, color and quality. Use shrimp paste to make authentic homemade curry paste or add a tiny bit to stir fry to round out the flavor of your Thai dish.
Shrimp paste is also a key ingredient in Nam Prik- a spicy Thai condiment.
Shrimp paste is added to recipes either unroasted or roasted. Unroasted, it is blended with spices to make curry paste. Other times, Thai recipes require roasting the shrimp paste in aluminum foil (or banana leaves) either over a gas burner, grill or in the oven for about ten minutes until fragrant.
The smell of shrimp paste takes some getting used to, but it the taste is simply wonderful! Kapee is an essential Thai ingredient for which there is no good substitute.
As good cooks know, be sure to use Thai shrimp paste in Thai food, not Chinese or Indonesian pastes because these are very different (and some would say not very delightful).
Store in a cool place well sealed for up to one year.
Also see Klong Kone brand Shrimp Paste, the favorite brand of Thai cooking instructor and cookbook writer, Kasma Loha-unchit.
See Thai recipes using shrimp paste: Shrimp Curry, Green Curry Paste, Red Curry Paste, Yellow Curry Paste (Karee) and Satay Peanut Sauce.
Ingredients: Shrimp, salt, sugar, MSG, and others. Product of Thailand.
Availability: Ships in 2-3 business days from Los Angeles, California.
Category: Pickled & Preserved, Pok Pok Ingredients
SKU: 2300421099