Thai Yellow Curry & Curry Paste Recipe
Yellow Curry Paste (Nam Prik Kaeng Kari) & Yellow Curry with Chicken (Kaeng Kari Gai)
This chicken curry recipe from Thailand uses dry roasted spices and fresh ingredients to make a aromatic curry paste. You may make the curry paste from scratch or simply used ready-made curry paste like Mae Ploy, Mae Sri or Nittaya brand. Refrigerate any leftover paste in a zip lock bag. It will keep for at least a month.
Yellow Curry Paste Ingredients (Nam Prik Kaeng Karee)
Preparation
Dry roast coriander seeds and cumin seeds until fragrant over low flame in a heavy bottom pan (be careful not to burn). Set aside. See a more detailed explanation of dry roasting spices.
Pound in a mortar and pestle or process in a small blender/food processor container in the following order: dried chilis, sea salt, shallots, garlic, galangal, lemon grass and ginger root. Process or pound until smooth but some small pieces can still be seen.
Now add the roasted spices and curry powder. Process or pound again until the seeds are completely broken up into powder and the paste is blended through. Last add the shrimp paste and gently blend in, using the mortar or processor.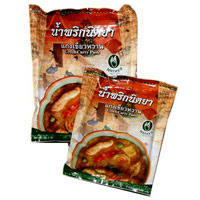 Yellow Curry with Chicken (Kaeng Kari Gai) Ingredients
3 tbsp yellow curry paste (either from the recipe above or ready made like Nittaya brand)
1 lb chicken, cut into 2 inch pieces (cut through the bones with a sharp cleaver if using chicken with bones)
2-3 small red potatoes, scrubbed and cut into 2 inch pieces
1/2 tsp sea salt
1/2 can (16oz) coconut milk, shake before opening to mix separated milk
2 tbsp fried shallots (available ready-made in a plastic jar), optional
1 tsp fish sauce, to taste (Golden Boy brand is recommended)
Preparation
In a small bowl mix the curry paste with 1 Tbsp. of water to dilute. Add to the coconut milk in a medium sized sauce pan. Stir to mix. Add the chicken and potatoes, and 1/2 tsp of sea salt. Bring to a boil over medium-high heat. Cook until the meat and potatoes are cooked through, not simmering on low heat, but let the curry roll on a low boil.
At the end of cooking, taste and add fish sauce to adjust the saltiness. Cook a minute longer. Remove from heat. Garnish with fried shallots, if desired. Serve with Thai jasmine rice.
Recipe © 2000 Temple of Thai; Image © 2010, woraput chawalitphon/istockphoto.com

Short on time but still want to make delicious Yellow Curry?
Try highly rated ready-made Nittaya brand Yellow Curry Paste.
"intensely delicious curries without the effort." ~ epicurious.com