Fish in Thai Red Curry Sauce Recipe (Chu Chee Pla)
This simple Thai curry recipe comes from the famous Samui Institute of Thai Culinary Arts (SITCA) located in Koh Samui, Southern Thailand where fresh seafood is abundant. Fish is quickly cooked in a rich Thai red curry sauce, seasoned with fresh sweet basil and served over steamed jasmine rice. You can find more authentic Thai recipes like this one in the SITCA Thai cooking DVD series available for purchase in our online Thai grocery.
Ingredients
Preparation
Heat wok over medium heat and add the oil.
Stir in the curry paste and cook until fragrant (use more or less curry paste to taste).
Add half the coconut cream (or milk), fresh basil leaves, fresh kaffir lime leaves and stir-fry about 1 minute.
Add the remainder of the coconut cream or milk, fish sauce, sugar, ground pepper and the fish. Stir gently to avoid breaking up the fish. Cook about 2 minutes, stirring occasionally.
Serve hot, garnished with sweet basil and fresh red chili slices.
Copyright © 2007 SITCA. All Rights Reserved; Image © 2010 Songsak Paname/123RF.com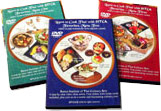 SITCA Thai Cooking DVD Set
More authentic Thai recipes like this one can be found on the high quality DVD videos produced by Samui Institute of Culinary Arts and available in our store as a complete Thai Cooking DVD Set