White Pepper Powder (Prik Thai)

,

Product of Thailand

, 1.30 oz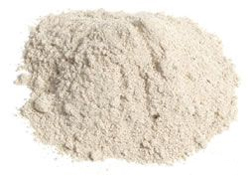 White pepper (prik tai in Thai) is used the most commonly used type of peppercorn in Thai cooking (other types including black and young green peppercorns). Thai white pepper is different from Western-style white pepper, because the pepper berries are allowed to fully mature on the peppercorn vine to bright red. Then the seeds are allowed to ferment for a few days and eventually the red outside is rubbed off to reveal smooth, round white peppercorns. The resulting ground pepper is speckled black.
White pepper is considered to be a key ingredient of Thai cuisine. In Bangkok, fussy cooks battle fierce Chinatown traffic to purchase the freshest ground pepper for their Thai dishes. White pepper is often dusted atop a dish as a final spice, to uplift the senses with a pleasant smell and fresh taste.
See Thai recipes using Thai white pepper powder: Stir-Fry Chicken with Basil, Glass Noodle Soup, Barbeque Chicken and Thai Fried Rice.
Also see: Pepper & Garlic Seasoning Mix, Lobo brand and Green Peppercorns in Brine.
Ingredients: Ground white pepper. Product of Thailand.
Availability: Ships in 2-3 business days from Los Angeles, California.
Category: Spices
SKU: 3112061118