Thai Chu Chee Curry Paste (2pkg)

,

MaeSri

, 4.0 oz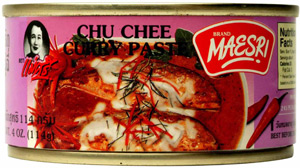 Chu Chee Curry Paste from Mae Sri is used to make a special type of dry curry with a thick sauce. Chu chee curry paste is usually served with fried mackeral. Cooking direction are included on the package.
MaeSri is one of the most famous of all the Thai food brands. Founded in 1966, MaeSri has become one of the major leading food manufacturers and exporters in Thailand. With its vast experience in shipping Thai food products all over the world, MaeSri products are guaranteed high quality and perfectly delicious thanks to a manufacturing process that strictly follows professional procedures and global standards like the internationally accredited GMP and HACCP systems. MaeSri products are made from only the finest all-natural ingredients and are 100% preservative-free, for the sensational spicy goodness and bold tastes of Thai food as if straight from a real Thai kitchen.
Fancy an authentic Thai curry?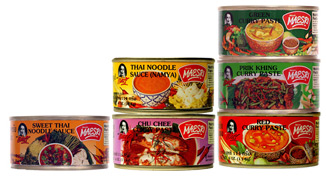 Also see MaeSri brand: Leang Curry Paste, Prik Khing Curry Paste and Red Curry Paste.
See a recipe for Chu Chee Curry.
Note: There are 2 (4-oz.) pkg per order.
Ingredients: Chili, garlic, shallot, lemon grass, salt, sugar, spices and galangal. Product of Thailand.
Availability: Ships in 2-3 business days from Los Angeles, California.
Category: Curry Paste
SKU: 2190031386