Thai Red Curry Paste (2pkg)

,

MaeSri

, 4 oz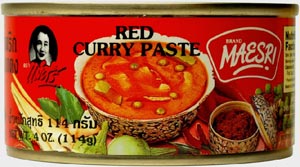 Cook Red Curry Paste with canned coconut milk, protein of your choice and vegetables if desired. Add fish sauce to taste and serve over steamed jasmine rice. Eat with raw or steamed vegetables and fresh herbs like basil. This makes a healthful every day meal, that you can prepare in less than 30 minutes. MaeSri Red Curry Paste does not contain shrimp paste, like most other Thai curry pastes, making it suitable vegetarians.
For more vegetarian curry pastes also see: Prik Khing Curry Paste, MaeSri and Yellow Curry Paste, Mae Ploy.
Note: There are 2 (4-oz.) pkg per order.
Red Curry with Roasted Duck (Kaeng Phet Ped Yang)
1.5 lbs roasted duck
4 oz Mae Sri Red Curry Paste
1 can (14.5 oz) coconut milk
5 oz cherry tomatoes
5 oz pineapple cut into 1.5 cm cubes
2 spur chilies* cut at an angle into slices
1/2 cup sweet basil leaves
3 tablespoons fish sauce
1 cup of water
Bring 2 cups coconut milk in the pot to a boil, put in the Red Curry Paste, stir throughly and simmer until the soup is fragrant and red oil has formed on its surface.
Put in the duck, the remaining coconut milk, water, and simmer for 10-15 minutes, or until the duck is tender.
Toss in the pineapple, tomatoes, spur chilies, and sweet basil, season with the fish sauce, and serve. (Serves 4)
Note: Miniature bell pepper may be used in place of the spur chillies.
Ingredients: Dried red chilli, garlic, shallot, salt, lemon grass, sugar, galanga, kaffir lime peel and spices. No preservatives or color added. Product of Thailand.
Availability: Ships in 2-3 business days from Los Angeles, California.
Category: Curry Paste
SKU: 2110031108