Prik Khing Curry Paste (2pkg)

,

MaeSri

, 4 oz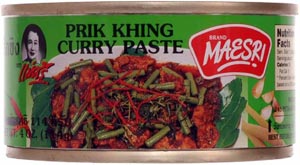 Cook Prik Khing Curry Paste with long green beans, pork, chicken or firm tofu to make a quick traditional Thai dish. This curry paste is suitable for vegetarians, as it does not contain shrimp paste. Cooking instructions are included on the package.
Vegetarians also see: Red Curry Paste, MaeSri and Yellow Curry Paste, Mae Ploy.
Recipe: Stir-fry 1 can of MaeSri Prik Khing Curry Paste with 1/2 cup of cooking oil for 4 minutes on low heat. Add 300g of chicken or pork, 1/2 cup of water, 400g of cut long beans and boil until cooked. Add 1 tbsp. of sugar and garnish with fresh minced kaffir lime leaves, fresh chili, and roasted peanuts if desired.
Also see Mae Anong brand Prik Khing Curry Paste.
Note: There are 2 (4-oz.) pkg per order.
Ingredients: Dried red chilli, shallot, garlic, galanga, lemongrass, kaffir lime and spices. No preservatives or color added. Product of Thailand.
Availability: Ships in 2-3 business days from Los Angeles, California.
Category: Curry Paste
SKU: 2160031091