Prik Khing Curry Paste

,

Mae Anong

, 16 oz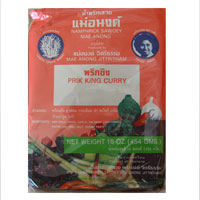 If you know some Thai food vocabulary you may suspect that Prik Khing Curry Paste is made with ginger as a main ingredient. Prik king literally means chilli ginger. But in fact this paste is prepared with dried red chillies, shrimp paste, onion, garlic, lemongrass, kaffir lime peel and galanga. In the case of this dish, the word khing refers to galanga, a type of ginger (sometimes called Siamese Ginger).
This curry paste is the foundation of Pad Prik Khing - a highly seasoned dry curry dish cooked in one of two ways: either with pork and firm vegetables like long beans or green string beans or with seafood like shrimp and fish. Dishes seen on Thai restaurant menus in the West include Mu Pad Basil Prik Khing, pork sauteed with string beans, fresh basil and ground white pepper and Pla Pad Prik King, deep fried fish topped with prik king curry paste, chiffonade kaffir lime leaves (finely sliced ribbons of kaffir lime leaves), string beans and basil.
Ingredients: Red chilli, shrimp paste, onion, garlic, galanga, lemongrass and kaffir lime peel. Product of Thailand.
Availability: Ships in 2-3 business days from Los Angeles, California.
Category: Curry Paste
SKU: 2160150276