Learn to Cook Thai with SITCA DVD Set

,

SITCA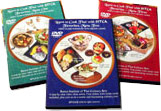 Each DVD in this set contains four professionally produced video cooking classes with step-by-step instruction, cooking tips and printed recipe cards. Filmed in SITCA's modern teaching kitchen located on the island of Koh Samui, the classes are designed to teach you to prepare authentic Thai cuisine using ingredients available outside of Thailand. Classes are presented in English by SITCA director and expert Thai chef, Roongfa Sringam.
The complete set covers 12 Thai recipes on 3 DVDs:
DVD 1: Green Curry Paste, Green Chicken Curry, Spicy Seafood Salad and Sweet Sticky Rice with Mango
DVD 2: Deep Fried Fish Cakes, Coconut Milk Soup with Seafood, Phad Thai, and Stir Fried Asparagus with Prawns
DVD 3: Mixed Satay with Peanut Sauce, Steamed Fish in Plum Sauce, Massaman Chicken Curry (see video clip below), and Pumpkin Custard.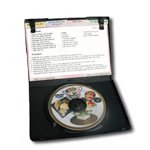 Each Thai cooking class begins with an introduction to the ingredients used in the recipe. Find out how to balance the five flavors that define Thai cuisine and get suggestions for Thai food substitutes for ingredients that may be hard to find outside of Thailand.
Every disc also includes a scenic and fascinating 35 minute tour of places where Thai food ingredients originate. To make this Thai cooking video series truly unique in its educational value and fun to watch, SITCA traveled to provinces on the mainland and around Koh Samui to visit herb farms, fish sauce and shrimp paste makers, noodle factories, fruit orchards and more.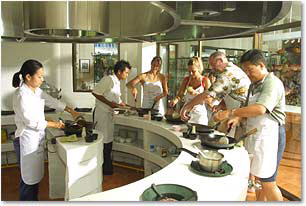 The Samui Institute of Thai Culinary Arts (SITCA) offers daily Thai cooking classes, as well as instruction in the Thai art of fruit and vegetable carving in its modern state of the art facilities on the paradisaical island of Koh Samui, Thailand. Training is also available for aspiring chefs via their professional training programs which include Thai cuisine, fruit & vegetable carving, menu design, napkin folding, table skirting, table service and culinary excursions. SITCA has been featured on the BBC World Holiday program.
Also see SITCA's How to Carve Fruits and Vegetables the Thai Way DVD.
See a recipe for Choo Chee Curry from SITCA.
See a clip from the DVD set, Massaman Chicken Curry Recipe:
Availability: Ships in 2-3 business days from Los Angeles, California.
Category: Asian Cookbooks
SKU: 7110000266