DVD How to Carve Fruits & Vegetables The Thai Way

,

SITCA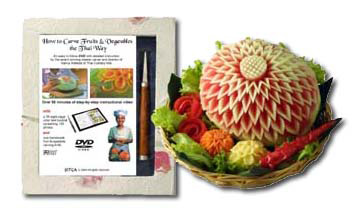 This home-study fruit carving DVD is the next best thing to joining the vegetable and fruit caving classes at the Samui Institute of Culinary Arts in Thailand. This DVD will allow you to learn the techniques needed to create stunning fruit and vegetable carvings. An excellent way for both amateur and professional chefs to acquire an impressive and valuable set of new garnishing skills. It is the perfect gift for a loved one who appreciates the culinary arts.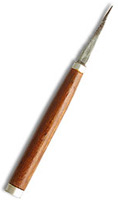 Learn to carve flower patterns, vegetable garnish and plate decoration in three parts, with instruction by the institute's director, Roongfa Sringam. Close up photography and easy-to-understand English language explanations accompany every step. The Samui Institute of Culinary Arts professionally produced and digitally photographed step-by-step 56 minute instructional fruit and vegetable carving DVD is based on the school's widely acclaimed 6 hour fruit carving course.
The set includes a specially designed and handcrafted vegetable and fruit carving knife, and a 38 page step-by-step instructional booklet that contains over 135 detailed color pictures.
The DVD version is designed to play in all computer DVD-ROM drives, however please note that it may not play in some set-top (stand alone) players. But you will be able to view it with a computer DVD player.
Availability: Ships in 2-3 business days from Los Angeles, California.
Category: Fruit Carving DVDs
SKU: 7100000341