Green Curry with Pork Recipe (Gaeng Kiaw Wan Moo)
Prepare this tasty Thai green curry quickly and easily with canned coconut milk and ready-made green curry paste for a delicious meal in no time at all. If you have time you may like to prepare your own curry paste using a mortar and pestle. Add greens or squash at the end of cooking to add texture and vitamins to your Thai meal.
Ingredients
2 tbsp water
1 lb pork riblets (rib tips) or 3/4 lb. pork roast (with some fat), cut into 1 x 1/4 " pieces, or chicken
1 (16oz) can coconut milk, Chao Koh brand
Preparation
Mash green curry paste and water in a small bowl with the back of a small spoon to dilute. Cut up pork or chicken into bite sized pieces. For riblets, cut between the bones into separate pieces, about 1/2-inch by 1-inch. If riblets are not available, substitute boneless pork roast: cut into 1-inch by 1/4-inch pieces. Rinse the meat in cold water and drain.
Place the cut up pork and diluted curry paste in a small saucepan. Pour over 3/4 of a 16 oz. can of coconut milk (shake the can before opening). Add 2 tbsp fish sauce.
Bring to a rolling boil over high heat. Cook over high heat approximately 5 minutes, until the meat is cooked through. Add sliced jalapenos and fish sauce to taste. Serves 3 to 4.
Variations: Towards the end of cooking add 3/4 cup diced eggplant. Cook until cooked through. Turn off the heat and add 1/4 cup chopped cilantro.
Notes: Freeze remaining coconut milk in a zip lock bag.
Recipe © 1999 Temple of Thai; Image © 2011 Surachai Suparsreepipat/123RF.com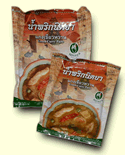 Preparing your own curry paste always gives the best results for a really authentic green curry. However, if you're short on time we recommend our ready-made
Nittaya brand Green Curry Paste
.
Nittaya is a delicious quick and simple alternative to making curry paste by hand. It's the best prepared curry paste we have tried and as a fellow curry lover we're sure you'll agree.