Green Curry Paste

,

Nittaya

, 17.6 oz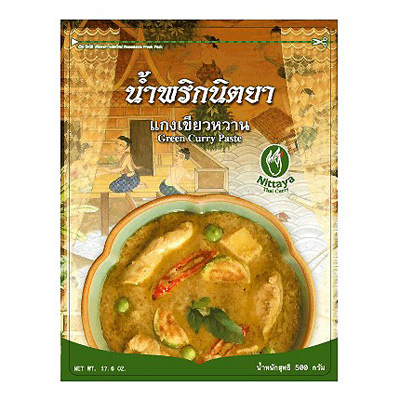 Green Curry Paste (kreung gaeng keo wahn) is a blend of spicy green chilies and herbs and is used only to make Green Curry. This Nittaya brand paste includes fresh green chilies, shallots, garlic, galangal root, lemon grass, kaffir lime peel, shrimp paste and salt. Sweet basil leaves, round green Thai eggplants and fresh kaffir lime leaves add to the overall lovely jade green hue of this curry dish.
Green curry is perhaps the most popular curry in Thailand with Green Curry Beef (gaeng keow wahn neau) or Green Curry with Fish Dumplings being two popular combinations. Green curry is perhaps the most Thai in the sense that it is so different from the curries of other countries. Serve Green Curry over steamed jasmine rice.
Some say this is the hottest curry in Thailand but this is not always true, as this depends on many factors, especially the palate of the cook (i.e. use less curry paste and more coconut milk to make it less spicy).
Nittaya brand curry paste is preservative-free and freshly packaged, imported and flown in directly from Bangkok to the USA by TempleofThai.com. Nittaya brand curry pastes have been recommended by both New York Magazine and Epicurious.com.
Also see Nittaya brand Red Curry Paste, Masaman Curry Paste, Panang Curry Paste, Yellow Curry Paste and Roasted Chili Paste in Oil.
Ingredients: Green chili, shallots, garlic, galangal, lemongrass, kaffir lime peel, shrimp paste and salt. Product of Thailand.
Availability: Ships in 2-3 business days from Los Angeles, California.
Category: Nittaya Curry Paste
SKU: 2121040252