Massaman Curry Paste

,

Nittaya

, 17.6 oz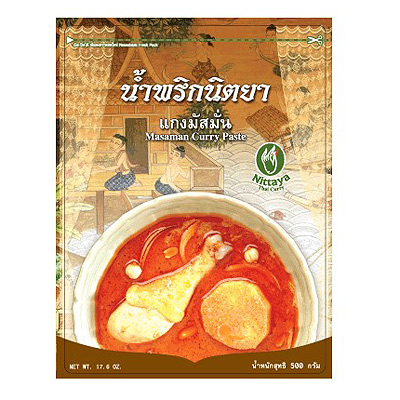 Masaman Curry perhaps originates in the deep South of Thailand on the Malaysian border where the population is largely Muslim. This curry paste (nam prik geang masaman) is based on mainly dried spices which is not typical of Thai curry pastes. In the West it's becoming one of the most popular Thai curries because of the unique taste and mild spice. Masaman curry paste is a little more complicated to prepare then red or green curry, but once cooked, it can be kept in the refrigerator for days and the taste improves like stew.
The curry dish itself includes ground peanuts and whole spices such as cinnamon, Thai cardamom and nutmeg. Masamam curry has a slightly sweet taste offset with a touch of sourness, nicely complimenting the dried spices. Traditionally Masaman is most often prepared with lamb or beef as the Islamic religion forbids the consumption of pork, but in the West Masaman Curry Chicken is a favorite. Serve over steamed jasmine rice or with Roti bread.
Made from Thai chillies, shallot, galangal root, lemon grass, shrimp paste, salt and dried spices, Nittaya brand curry paste is preservative-free and freshly packaged. Nittaya brand is flown in directly from Bangkok to the USA by Temple of Thai. Recommended by both New York Magazine and Epicurious.com.
Also see Nittaya brand Green Curry Paste, Red Curry Paste, Panang Curry Paste, Yellow Curry Paste and Roasted Chili Paste in Oil.
See our Massaman Curry Recipe.
Ingredients: Chilli, shallot, galangal, lemongrass, shrimp paste, salt, spices and vegetable oil. Product of Thailand.
Availability: Ships in 2-3 business days from Los Angeles, California.
Category: Nittaya Curry Paste
SKU: 2151040254