Cinnamon Stick

,

Imported from Thailand

, 4.0 oz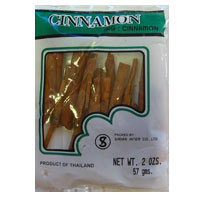 Cinnamon stick (ob-chuey in Thai or cinnamonum spp.) comes from the bark of a number of different species of trees in the laurel family. In Southeast Asia, the cassias tree is the commercial type of tree from which cinnamon is harvested. The bark tends to roll itself back up in a scoll-like shape, after being peeled from around the branch of the tree. The bark is cut into strips for retail sale.
To prepare, roast cinnamon sticks before adding to your dish to bring out the aroma. But do not attempt to grind them as the pungent oils released can burn your mouth and therefore are best added whole to a dish.
The most usual use of cinnamon in Thai cooking is as an ingredient in Palao (Chinese Five Spices Stew) or Masamam Curry. It is never used in Thai dessert recipes though.
Store tightly covered in a non-reactive container (i.e. not plastic) up to one year in a cool dry place.
See more : Cinnamon Powder
See our recipe using cinnamon sticks for Thai Braised Beef Soup Recipe (Neua Tun).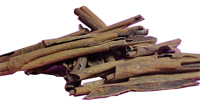 Ingredients: Cinnamon stick. Product of Thailand.
Availability: Ships in 2-3 business days from Los Angeles, California.
Category: Spices
SKU: 3101000282