Yellow Curry Paste

,

Nittaya

, 17.6 oz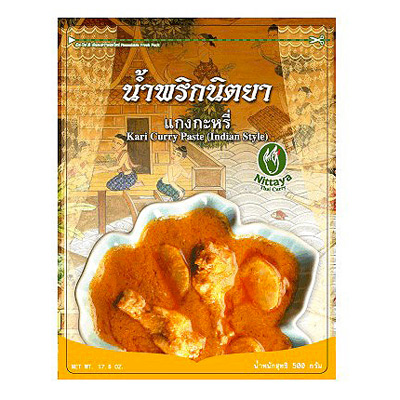 Yellow Curry (gaeng kari) is a Thai version of Indian yellow curry, including some dried spices in the yellow curry paste (nam prik geang leung). It is a mellow sweet-spicy paste blend based on turmeric and curry powder pounded together with Thai chilies, shallots, garlic, galangal root, lemon grass, shrimp paste, salt and other dried spices.
Like Massaman Curry, Yellow Curry is very mild compared to other Thai curries. It is usually combined with coconut milk, chicken, onions and potatoes for Yellow Chicken Curry. Or popular in the South of Thailand, yellow curry paste is prepared in a fish stew without coconut milk making it a very spicy dish! Serve Yellow Curry over steamed jasmine rice.
Nittaya brand curry paste is preservative-free and freshly packaged, flown in directly from Bangkok to the USA by TempleofThai.com.
For more curry recipes also see Yellow Curry with Chicken (Gaeng Ka-Ri Gai) and Thai Yellow Curry (Gaeng Karee Gai).
Also see Nittaya brand
Ingredients: Chili, shallots, garlic, galangal, lemongrass, shrimp paste, salt and spices. Product of Thailand.
Availability: Ships in 2-3 business days from Los Angeles, California.
Category: Nittaya Curry Paste
SKU: 2131040255