Lemongrass

,

Temple of Thai

, 3 pc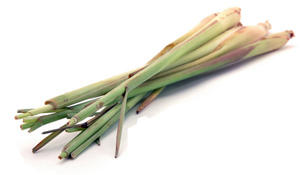 Lemongrass (lemon grass, cymbopgon citratus or dtakrai in Thai) is an aromatic citrus-flavored tropical grass that is a one of the most common ingredients in Thai cooking. In fact in the West lemongrass has become almost a symbol of Thai cuisine. It is an essential ingredient in Thailand's most famous soup, Tom Yum (sour and spicy soup) and homemade curry paste.
To prepare, discard the tough outer layer, and cut off the straw like top and discard. Use the lower slightly bulbous part for cooking. Mince the long grey green spears crosswise finely for curry or smash the bulb with the side of a heavy knife for soups. For salads (yam in Thai), slice crosswise with a very sharp knife into as thin as possible rounds.
To store place in water, like fresh flowers, changing the water when cloudy and rinsing the ends of the lemon grass with fresh water. Lemongrass will keep up to 3 weeks in this way. Or cross-cut fine and freeze for longer storage.
It is also possible to grow your own lemongrass by putting the stem end in water until roots appear, then it can be potted or put out in the garden.
Recognized for its carminative effects, lemongrass can be prepared as a herbal tea, served hot or cold. Served as a hot tea it is a therapy for colds, congestion, fever, cough, sore throat and laryngitis.
Get Thai recipes for Chicken with Fresh Lemongrass, Grilled Fish, Chicken Salad, and Chicken in Coconut Milk Soup.
Lemongrass is also available as part of a set, Fresh Tom Yum Soup Set.
SHIPPING: Lemongrass is hardier then some of the other perishable fresh produce we sell and can be shipped by UPS Ground in cooler weather (below 80 degrees Fahrenheit). Otherwise we recommend using UPS Second Day Air. Please be sure to see our Fresh Produce Shipping Terms for more details before checking out.
Ingredients: Fresh lemongrass. Product of USA.
Availability: Ships in 2-3 business days from Los Angeles, California.
Category: Pok Pok Ingredients, Fresh Produce, Satay
SKU: 8100000114