Roasted Chili Paste in Oil (Chilli Jam)

,

Nittaya

, 17.6 oz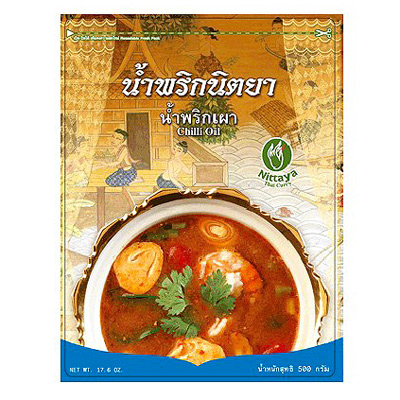 Roasted Chili Paste in Oil or Chilli Jam (nam prik pao in Thai) is made primarily from dry roasted red chilies and ground dried baby shrimp. It has a wonderful mellow taste and is used to flavor soups, including the famous hot and sour soup Tom Yum, as well as stir-fry and noodle dishes, salad dressings and dipping sauces. Because it has a somewhat sweet taste, in Thailand it is used as a spread on white toast (not very appealing to most foreigners!) and shrimp chips. It is often served as a dip with raw and steamed vegetables such as cucumbers, cabbage and long beans alongside steamed jasmine rice. Nam prik pao may also be simply eaten alone with rice (and this is especially delicious topped with a fried egg, known as a ky dao in Thai).
For the freshest taste possible and without having to making this labor intensive paste yourself, we recommend Nittaya brand nam prik pao. This brand of Roasted Chili Paste is labeled as 'Chili in Oil' and is manufactured by the Nittaya company in Bangkok. The Nittaya brand is becoming better known in the USA and already has a long-standing reputation of excellence in Bangkok, especially for their delicious homemade tasting curry pastes. All of their pastes are made of the freshest and finest quality ingredients to create a well-balanced mix of spices and herbs, based on years of experience.
Because these curry pastes are made of fresh ingredients,with no preservatives added, freezer storage is recommended once opened to maintain freshness and quality. Temple of Thai is the direct importer of these pastes which are flown in directly from Bangkok to the USA. Nittaya brand curry pastes have been recommended by both New York Magazine and Epicurious.com.
See more nam prik pao, Thai Roasted Chili Pastes: Roasted Chili Paste (Naam Phrik Pao), Pantainorasingh, Thai Chili Paste, Mae Pranom and Chile Paste in Oil, Mae Anong.
Also see Nittaya brand
Ingredients: Chilli, garlic, shallot (red onion), sugar, vegetable oil, salt, dry shrimp, tamarind and shrimp paste. Product of Thailand.
Availability: Ships in 2-3 business days from Los Angeles, California.
Category: Nittaya Curry Paste, Chili Pastes
SKU: 2600040256