Thai Chili Paste

,

Mae Pranom

, 8.0 oz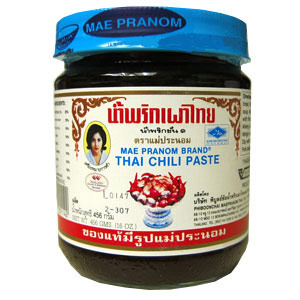 Thai Chili Paste (nam prik pao) is often added to Tom Yum Soup. It is also great with steamed jasmine rice or as a dip for raw or steamed vegetables, pork crackling or crispy rice. See a Thai recipe below for Steamed Sea Bass with Roasted Chili Paste.
More Thai Chilli Pastes, nam prik pao:
Steamed Sea Bass with Thai Chili Paste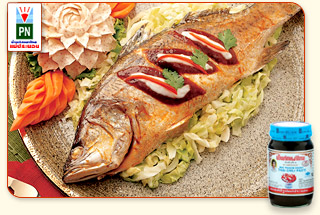 1 lb. (500 grams) whole sea bass
1 small head cabbage
4 tbsp. Thai chili paste, Mae Pranom brand
1 tbsp. fish sauce
2 tbsp. lime juice
1 tsp. sugar
1 stalk coriander
1 tsp. paste of pounded white peppercorns, coriander roots (if available*) and garlic
Garnish: Red fresh chili pepper, fried dried chili, coriander leaves
Wash sea bass, scale and slit along the belly to remove the entrails. Chop cabbage, scalding and put in cold water, strain, then toss with 1/4 cup of coconut cream and spread evely on the heat resistance plate. Mix Thai chili paste with lime juice, fish sauce, sugar and 2 tbsp. of water, stir well.
Mix coconut cream with the mixing of pounded white pepper, coriander roots and garlic. Brush the mixture all over the sea bass and laid the fish on top of the cabbage in the plate. Steam on high heat for 15 minutes (if use microwave oven, it takes 8 minutes on high power). Remove from the steamer, spread over the fish with Thai chili paste, decorated with coconut cream, coriander leaves and red chili pepper.
Note: *Coriander roots are available only in the summer and even then they can be hard to find. Substitute the stems of the coriander instead.
Recipe © 2008 Mae Pranom
See other types of Thai Chili Pastes:
Ingredients: Sugar, shallot, soya bean oil, garlic, dried chilli, fish sauce and dried shrimp. Product of Thailand.
Availability: Ships in 2-3 business days from Los Angeles, California.
Category: Chili Pastes
SKU: 5530100297