Shrimp Paste with Soya Bean Oil

,

Pantainorasingh

, 3.5 oz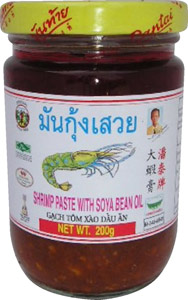 Shrimp Paste in Soy Bean Oil is made up of the natural golden buttery substance in shrimp heads, chopped shrimp meat, garlic, white pepper, soybean oil, and fish sauce. A staple of Southern Thailand, this Shrimp Paste in Soy Bean Oil can be added to fried rice, noodles, stir-fried vegetables and seafood dishes to add a rich seafood flavor. Store up to 6 months refrigerated once opened.
See a Thai recipe below for Shrimp Macaroni.
See more Thai Chili Pastes:
Shrimp Macaroni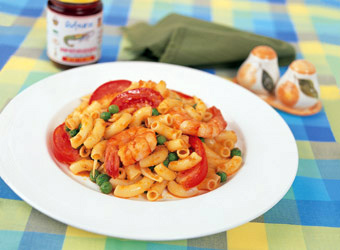 2 cups cooked macaroni noodles
100 g tiger prawns, cleaned
30 g onion, sliced
1 tablespoon garlic, minced
50 g tomato, quatered lengthwise
30 g snow peas
2 tablespoons Shrimp Paste with Soya Bean Oil, Pantainorasingh
1 teaspoon sugar
3 tabelspoons Fish Sauce
1 egg
1 tablespoon butter
Wash the prawns, peeled and deveined.
Heat the pan with butter. Then add chopped garlic, sliced onion, snow pea and prawns stir until cooked.
Stir-fry cooked macaroni and season with Shrimp paste with Soya Bean Oil, sugar, Fish Sauce and tomato. Serve immediately.
Serves 1-2. Copyright 2008 Pantainorasingh.
Ingredients: Shrimp meat, soya bean oil, garlic, salt, pepper, msg, and paprika oleoresin. Product of Thailand.
Availability: Ships in 2-3 business days from Los Angeles, California.
Category: Chili Pastes
SKU: 5541300221