Chili Paste Sweet Basil

,

Por Kwan

, 8 oz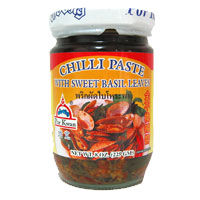 This ready-made Chili Paste with Sweet Basil (bai horapah in Thai) makes it easy to quickly prepare Thai basil stir-fry dishes.
Quick Thai Recipe: Stir-fry a clove of fresh garlic with seafood (especially clams), fish, chicken or pork. Add a spoonful of Por Kwan Sweet Basil Chili Paste and cook a few minutes longer. Season with fish sauce, black thick soy sauce to taste. Finish with a generous sprinkle of Thai ground white pepper. Garnish with fresh Thai Sweet Basil if desired. Serve over steamed jasmine rice.
Store up to 3 months refrigerated after opening.

See more Thai Chili Pastes:
Ingredients: Red chilli, sweet basil leaves, soya bean oil, garlic, salt, paprika and natural color. No preservatives. Product of Thailand.
Availability: Ships in 2-3 business days from Los Angeles, California.
Category: Chili Pastes
SKU: 5533300194