Thai Chili Paste with Sweet Basil (6pkg)

,

Por Kwan

, 6x8 oz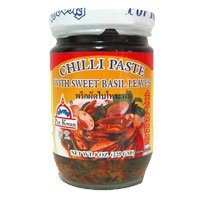 This ready-made Chili Paste with Sweet Basil (bai horapah in Thai) from Por Kwan brand Thailand makes it easy and convenient to prepare Thai basil stir-fry, especially one of Thailand's favorite dishes, Stir Fry Clams with Sweet Basil and Chili Paste (hoi lai paht).
Buy in bulk and save. Once opened, store up to 3 months refrigerated.
Ingredients: Red chilli, sweet basil leaves, soya bean oil, garlic, salt, paprika and natural color. No preservatives. Product of Thailand.
Availability: Ships in 2-3 business days from Los Angeles, California.
Category: Chili Pastes
SKU: 5533300822