Chili Paste with Holy Basil

,

Por Kwan

, 8 oz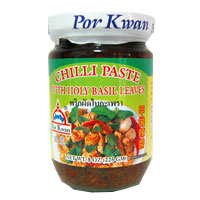 Use this ready-made Chili and Holy Basil Paste (bai graprow in Thai) to prepare the popular Thai stir-fry dish, Pad Graprow or Pad Kee Mao (Drunken Stir Fry).
Pad Graprow Recipe: Stir fry to cook through either fish, chicken or pork, with a clove of fresh garlic. Add a spoonful of Chili Paste with Holy Basil towards the end of cooking and heat through. Season with fish sauce and black thick soy sauce to taste. If desired sprinkle over Thai ground white pepper to finish. Serve over steamed jasmine rice.
Store up to 3 months refrigerated after opening.
See Thai recipes for Chicken Stir Fried with Holy Basil (Gai Pad Graprow) and Pad Kee Mao.

See more Thai Chili Pastes:
Ingredients: Red chilli, holy basil leaves, soya bean oil, garlic, salt, paprika, and natural color. No preservatives. Product of Thailand.
Availability: Ships in 2-3 business days from Los Angeles, California.
Category: Chili Pastes
SKU: 5533300193