Thai Drunken Noodle Stir-Fry with Chicken (Kway Teow Pad Kee Mao)
This spicy chicken stir fry recipe, Pad Kee Mao, is translated from Thai as 'Drunken Stir Fry'. This dish is usually exhilaratingly spicy and as the name suggests it can be perfectly accompanied with an ice cold beer or whiskey & soda with lime. Pad Kee Mao dishes are made with lots of fresh hot Thai chili peppers, fresh garlic and holy or sweet basil and may be prepared with chicken, pork or seafood, such as clams or prawns. Our recipe is made with a ready-made Holy Basil Paste and dry rice noodles so that you can make this excellent dish anytime, as fresh basil can be hard to source. You can purchase fresh sweet basil in our online grocery but unfortunately holy basil, which is usually used for this dish, is highly perishable so we are unable to ship it. If you are fortunate you may be able to find it in a farmer's market or try substituting with other types of fresh basil.
Ingredients
3-4 Tablespoons cooking oil (palm, soybean or corn but not olive oil)
1 pkg (13.2 oz) Thai rice noodles
1 pkg (1.76oz) Holy Basil Seasoning, Lobo brand or 3 1/2 Tablespoon Por Kwan brand (optional)
1 lb kale, Chinese broccoli or green cabbage (2-3 cups), cut into bite size pieces
4 oz cherry tomatoes
6 cloves garlic, peeled and chopped
4 oz Thai chilies peppers, crushed
7oz (200 grams) chicken or pork, sliced into thin pieces
2 Tablespoons Thai fish sauce (Golden Boy brand is recommended)
2 1/2 Tablespoons Oyster Sauce (Thai Mae Krua brand is recommended)
2-3 teaspoons Thai Sweet Black Soy Sauce
1 teaspoon white sugar, to taste
1/4 teaspoon ground white pepper
1/2 cup sweet basil leaves or holy basil if available (leaves and flowers), optional
2 Anaheim chilies or 1 green bell pepper, cut into strips, optional (for added texture and color)
Lime wedges to serve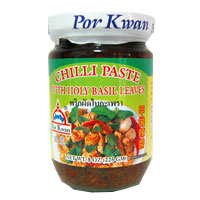 Preparation
Soak the dried rice noodles in cool or lukewarm tap water for 40 minutes to one hour or until the noodles are limp but still firm to touch.
Heat oil in wok until almost smoking. Add the garlic and Thai chilli peppers and stir-fry quickly until fragrant, about 30 seconds. Add chicken or pork and stir-fry until no longer pink.
Add ready-made Holy Basil Seasoning, fish sauce, oyster sauce, black sweet soy sauce, sugar and ground white pepper. Stir to mix. Add pre-soaked noodles, fresh basil if using, tomatoes and bell or Anaheim chili peppers (if desired). Garnish with fresh basil leaves, lime wedges and serve immediately, hot!
Recipe Copyright © Temple of Thai 2000; Image Copyright © Hassel Sinar, used under license from Shutterstock.com