Rice Noodles (Chantaboon Rice Sticks)

,

Imported from Thailand

, 13.2 oz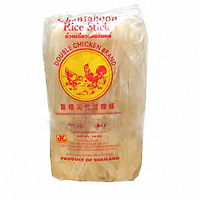 These wide Rice Stick Noodles are slightly wider then our thin rice noodles (sen-lek). The dimensions are approximately 1/2 inch wide and a millimeter thick. Other names describing these thick rice flour noodles include river rice noodles, mai fun and Chantaboon rice sticks. In Thailand this type of noodle is usually bought fresh (sen yai) in the market, but in the West this dried noodle is an acceptable alternative. Thai rice noodles are made from the flour produced from long-grain Thai rice.
Use these noodles for preparing Pad Thai, noodle soup and Pad See-ew (Rice Noodles Stir-Fried with Black Soy Sauce, see recipe below).
To prepare, soak in room temperature water to soften for 20 to 40 minutes.
Rice noodles should be considered for inclusion in a gluten-free diet.
To store noodles keep in a cool dry place in an airtight container. Use all types of noodles within one year of purchase. Rice noodles should be a stock item in your pantry.
Also see our medium-sized Rice Noodles.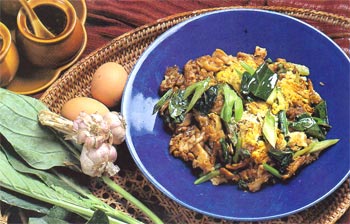 Pad See Ew (Rice Noodles Stir-Fried with Black Soy Sauce)
14oz dried rice noodles, soaked in water for 40 minutes
1/2 lb (1 cup) pork, thinly sliced
approximately 6 tblsp cooking oil
3 cloves garlic, crushed
1 cup Chinese broccoli (or broccoli, cauliflower, carrots or mushrooms), cut into 1" pieces
2 eggs, beaten
Combine all the sauce ingredients and add the sliced pork. Marinate the meat in the sauces at room temperature while preparing the other ingredients.
Heat 1/2 tablespoon of cooking oil in a wok over high heat, add one of the cloves of smashed garlic, stir briefly (about 30 seconds), then add the cut vegetables and cook stirring constantly until partially cooked, but still firm. Remove from the wok.
Heat 4 tblsp cooking oil in a wok over medium heat until hot. Add the remainder of the garlic cloves, stir briefly. Then add the noodles and stir fry another 2-3 minutes until brown and soft, remove from the wok to a plate.
Add 1 tblsp oil to the wok, when hot add the marinated pork and eggs, stirring to cook through and combine. Then add the vegetables and stir fry to combine. Then add the noodles and stir fry to combine and if possible char the noodles until a little crispy on the edge (this may require more oil then you like!).
Serve hot with small condiment bowls of ground dried red chilis, sliced green chilies in white vinegar and white sugar.
Note: This recipe is adapted from A Passion for Thai Cooking available in our Thai cookbook section. We have broken down the cooking of the ingredients for adaptation to a Western home stove. In Thailand this dish is best cooked in the outdoor marketplaces over blazingly high heat all at once in a big wok.
See a rice noodle recipe video from Thai Food Tonight for Pad Se Ew:
Ingredients: Rice flour and water. Product of Thailand.
Availability: Ships in 2-3 business days from Los Angeles, California.
Category: Noodles
SKU: 3511100183