Asian Rice Noodles (Sen Lek)

,

Thai Farmer

, 16 oz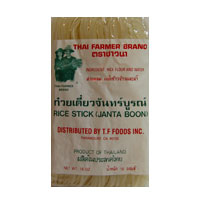 These Rice Noodles (phat thai noodles) are for cooking rice noodle recipes. Sometimes referred to as pad thai noodles, these medium-sized flat rice noodles are known as sen lek in Thailand. The city of Chantaburi is famous for sen lek noodles, which are sometimes called Jantaboon after the nickname of the town. In Thailand rice noodles are also available fresh, and in two sizes: sen yai (wide) and sen lek (narrow). Sen lek is usually used in soups, salads and Pad Thai.
Popular throughout Asia other names for these noodles include how fun in Chinese, ban pho in Vietnamese or pancit bihon in the Phillipines. In Hawaii they are known as 'long rice' by Hawaiian Chinese.
To prepare pre-soak the opaque brittle noodles in warm water for 40 minutes to an hour, to transform into soft noodles, before frying or adding to soups.
Rice noodles should be considered for inclusion in a gluten-free diet.
To store noodles keep in a cool dry place in an airtight container. Use all types of noodles within one year of purchase. Rice noodles should be a stock item in your pantry.
See a recipe for Pad Thai Noodles.
Ingredients: Rice flour and water. Product of Thailand.
Availability: Ships in 2-3 business days from Los Angeles, California.
Category: Pok Pok Ingredients, Pad Thai, Noodles
SKU: 3510111023