Carbon Steel Wok 17"

,

Product of Thailand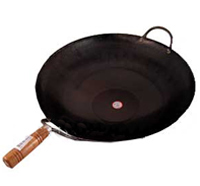 The steel wok is used for cooking stir-fried dishes. This larger size wok is especially suitable for stir-frying noodle dishes, which can be messy, particularly Pad Thai. Made from steel this wok is durable and easy to clean. The wok bottom is round. Diameter of wok is 16.5" (22.5" include handle), height 4 1/4"
Also see Steel Wok 13"
We recommend these great tools and cookbooks to go with your wok:
Availability: Ships in 2-3 business days from Los Angeles, California.
Category: Woks & Wok Tools
SKU: 6260000522