Perfect Pad Thai Kit

,

Temple of Thai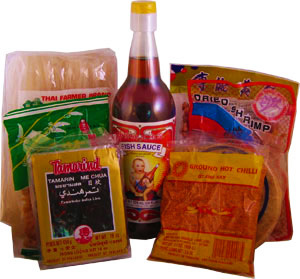 The Perfect Pad Thai Kit includes all of the ingredients you need to make our Perfect Pad Thai recipe; pick up the fresh ingredients at your local grocery store (see list below).
Perfect Pad Thai Kit Includes:

Also available as Perfect Pad Thai Kit With Wok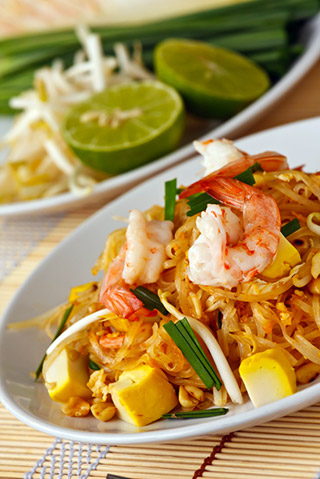 The best Pad Thai is a contrast of soft noodles flavored with salty, sweet, sour, and spicy flavors accented by pickled sweet radish, crisp beansprouts, toasted peanuts, firm fried tofu, crunchy scallions and zippy lime.
Served at home, Pad Thai could be part of a party menu, with most of the preparation done in advance and a few minutes of last minute stir-frying. Or cook up Pad Thai as a quick weekend mid-day one plate dish, with the help of our Perfect Pad Thai Sauce recipe.
Other simpler Pad Thai versions add fish sauce, sugar, vinegar and chilies directly to the noodle stir fry to create the unique flavor profile. In our version here a seasoning sauce is prepared by boiling tamarind water, fish sauce and palm sugar together.
No Pad Thai dish is complete without the addition of pickled radish, ground peanuts, ground chilies and garnished with lime halves and scallions.
Cooks tip: To insure success soak rice noodles in cool tap water for 40 minutes before stir-frying for tender but not sticky noodles.
Additional Grocery Items for the Perfect Pad Thai Recipe:
Peanut Oil or other Vegetable Oil
Frozen Shrimp or Pork
Firm Tofu
Garlic
Shallots
Eggs
Bean Sprouts
Garlic Chives and/or Scallions
Lime

Also see our Perfect Pad Thai Kit With Wok
Pad Thai Image © 2011 iStockphoto.com/Piyachok Thawornmat
Availability: Ships in 2-3 business days from Los Angeles, California.
Category: Noodles, Pad Thai, One Click Cooking Kits
SKU: 9100000138