Tamarind Paste

,

Cock brand

, 16 oz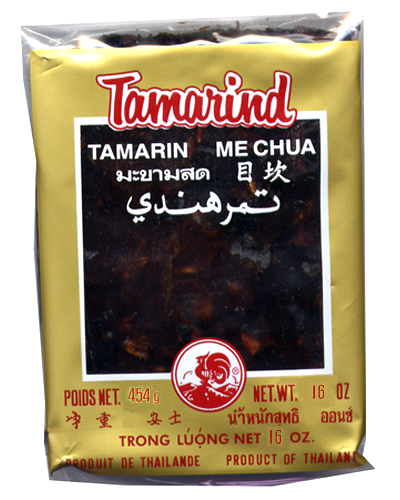 This seedless Tamarind Paste (or pulp or makham piak in Thai) is used in many Thai recipes. Tamarind paste is the pulp from the ripe pod of the tamarind tree (tamarindus indica), a native of India. The pods ripen from green to brown and inside are hard smooth brown seeds surrounded by sweet-tart, dark brownish-red sticky pulp. The pulp is separated from the seeds and fibers and then compressed into blocks (ma-kahm bpiak), to preserve it.
The tamarind tree is a large, attractive, slow-growing tree originally from Eastern Africa but which now grows all over the tropics, including Thailand. The tree has bright green ferny leaves that fold down in cold, damp weather or after sunset. The small yellow-veined flowers are fragrant. Its spreading branches and thick, straight trunk make it an ideal ornamental shade tree but, more importantly, the edible tamarind fruit is a much-valued ingredient in many Thai recipes.
The brown tamarind fruit is about six inches long and irregularly curved. These pendulous pods are borne in abundance along new branches. In Vietnam and Thailand the pods are often eaten unripe and are used in tart soups and stews as well as many other dishes. As the pods mature they fill out and the fruity acid pulp turns to a reddish brown. Each pod contains about ten flat, glossy brown seeds embedded in the pulp. When fully ripe the shells are brittle and easily broken. You can crack open the pods and suck on the seeds for the pulp, which has a pleasing sweet and sour flavour.
This pulp dehydrates in the sun to a sticky paste enclosed by a few course strands of fiber. This sticky pulp is sold in slabs. If using the tamarind slab for cooking, steep a little in warm water for ten minutes, occasionally stirring. Scrape matter off the seeds. Mash it into a paste and push through a sieve. The fine pulp and juice will go through, leaving behind the fibrous husk.
In recipes, usually tamarind water is called for as it is easily blended into a dish. To prepare tamarind water, pinch off a piece from the block, pour over water to cover in a bowl, and squeeze the pulp repeatedly. Strain the resultant liquid, discarding any fibers.
Tamarind pulp has a high vitamin C, Vitamin B and calcium content and using it in food has many health benefits. Eating it will improve digestion and relieve gas. Tamarind has many other medicinal uses also: it will soothe a sore throat, act as a mild laxative and can even be used as an effective antiseptic for eye baths.
Store in a ziplock bag in a cool dry place indefinitely.
Tamarind Water or Concentrate
1 tbsp tamarind paste without seeds
1/4 cup warm water
Soak the paste in the warm water for 5 minutes. Squeeze the seeds and fiber with your fingers to extract as much juice and flavor as possible. Strain and discard fibers.
Note: If you are in a rush, use our already prepared Tamarind Concentrate.
See a recipe using tamarind paste, Chicken Curry with Tamarind (Sour Chicken Curry).
Ingredients: 100% pure tamarind. Product of Thailand.
Availability: Ships in 2-3 business days from Los Angeles, California.
Category: Pok Pok Ingredients, Pad Thai, Pickled & Preserved, Satay
SKU: 2210481132