Tamarind Concentrate

,

CTF

, 14 oz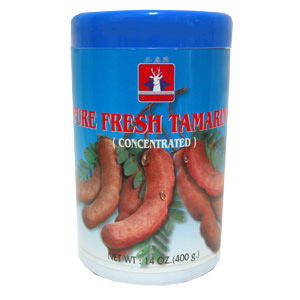 Use Prepared Tamarind Concentrate in recipes calling for prepared tamarind or tamarind water or juice. Ready to use, there is no mess. Just add to soups, dipping sauces, or any dish that needs a sour taste.
Pad Thai, a favorite Thai noodle dish, is one of the most famous recipes using tamarind paste as an ingredient. The sour, fruity taste combines perfectly with the heat of the spicy chilies in this noodle dish.
The unripe tamarind fruit is also enjoyed in Thailand, eaten with sugar, salt and dried crushed chilies. Even the tamarind seeds can be eaten roasted and served in a dessert compote with young coconut palm. In addition to the sour type of tamarind, there is also a sweet tamarind fruit, which is eaten as a fresh fruit and is a much appreciated gift. Tamarind is also a popular ingredient in Indian cuisine.
This versatile ingredient is an essential item for the store cupboard of anyone interested in mastering the preparation of authentic Thai food. Also see Tamarind Paste.
See a recipe using Tamarind juice, Green Papaya Salad.
Ingredients: Tamarind and water. Product of Thailand.
Availability: Ships in 2-3 business days from Los Angeles, California.
Category: Pickled & Preserved
SKU: 2220000008