Fresh Sweet Tamarind

,

SSK

, 16 oz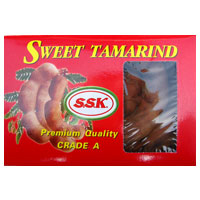 Fresh Sweet Tamarind is eaten as a fresh fruit and is a much appreciated gift.
Not widely know, there are in fact two type of tamarind. The more well known sour tamarind is very sour and is usually used for cooking. The type of tamarind here is a sweet variety and is enjoyed as a snack in Thailand and other parts of the world. If you would like to impress a Thai, give this fruit as a gift.
Fresh tamarind is high in Vitamin C, Vitamin B and calcium.
Also see Tamarind Paste.
Ingredients: Fresh sweet tarmarind. Product of Thailand.
Availability: Ships in 2-3 business days from Los Angeles, California.
Category: Fresh Produce
SKU: 8500000276