Dried Ground Red Chili Peppers

,

AC

, 16.0 oz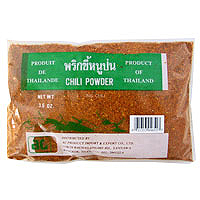 Dried Ground Red Chili (prik pon in Thai) can be used in homemade curry pastes when you are in a hurry or to spice up ready-made curry pastes. Ground Dried Red Chili Peppers are also used in many other Thai recipes including Larb Gy (Spicy Chicken Salad) and Pad Thai Noodles.
Store tightly sealed in a cool, dry place up to one year once opened.
Please note that sometimes the package is labeled as chili powder, but yet is 100% pure ground red chili peppers from Thailand (which is not the same as 'chili powder' sold in the USA, which usually contains other spices and is used to make Chile con carne).
Also see Whole Red Chili Peppers.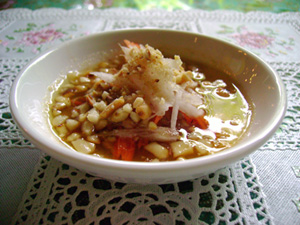 Spring Roll Sauce
1/4 cup white sugar
1/2 cup water
1/2 cup white vinegar
1-2 Tblsp. Thai fish sauce
2-3 tsp. Dried Ground Red Chili Peppers
1/2 carrot or daikon radish, shredded fine
1/4 cup coarsely chopped peanuts
Bring sugar and water to a boil in a small saucepan. Reduce heat and simmer 10 minutes. Remove from heat
Stir in vinegar, fish sauce and red chili peppers.
Pour into small serving bowls and top with chopped peanuts and shredded carrot and/or daikon radish.
Ingredients: Red chili peppers. Product of Thailand.
Availability: Ships in 2-3 business days from Los Angeles, California.
SKU: 3112062009