Chicken Ginger Stir Fry (Gy Paht King)
Thai-style Stir-Fried Chicken with Ginger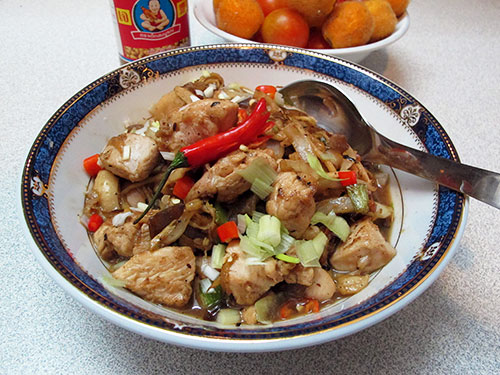 Ginger Chicken Stir-Fry (Click to enlarge)
Chicken Ginger Stir Fry is a favorite amongst those who prefer less spicy Asian dishes (especially kids!). The addition of red pepper adds color, texture and a bit of heat if spicy chilies are used. In the Thai version of this classic Chinese stir-fry, fish sauce is used in addition to the usual Chinese sauces. This type of stir-fry is best served piping hot so it should be cooked last in preparation for a Thai-style family meal. Other dishes to serve with this dish could include a clear Thai soup, steamed fish and perhaps a spicy dipping sauce.
Ingredients
2 Tbsp Tree Ear (Cloud Ear) Mushroom, soaked until soft
1/2 cup peeled and julienned fresh ginger
2 small mild red chili peppers (fresno or serrano) or sweet red peppers, cut diagonally into 1/2 inch pieces
1 small white onion, peeled and cut into small sections
1 Tbsp minced garlic
2 spring onions, cut into 1 inch pieces (discard tops)
1/2 lb (200 grams) chicken breast, cut into 1 inch pieces
2 Tbsp cooking oil (e.g. palm, soybean, or corn)
1 Tbsp Thai Yellow Soybean Paste
1 Tbsp Thai Fish Sauce (Golden Boy brand is recommended)
2 Tbsp sugar
Preparation
Preliminaries: Wash and peel about 3-4 inches of ginger root. Julienne into thin 1 1/2 inch long pieces. Set aside. Pre-soak the dried mushrooms for about 5 minutes. Trim away tough core of the mushrooms, slice into pieces and set aside. Cut red peppers diagonally into attractive approximate half-inch pieces. Peel and cut white onion in half and then into smaller sections lengthwise. Set aside. Peel and mince the garlic (or simply smash the cloves with a side of a cleaver if you prefer and add whole to your stir-fry). Cut spring onion into approx. 1 inch pieces, discarding the tops. Wash chicken and pat dry. Cut into bite-size pieces, approx 1 1/2 inch length, 1/2 inch wide by 1/4 inch thick.
Heat wok over high heat. Add cooking oil, heat quickly (10 seconds), add garlic, stirring. Add chicken and cook until opaque and no longer pink.
Add ginger and white onion, stir-frying briefly. Add mushrooms and continue to stir-fry another minute (depending on heat).
Add soybean paste, Golden Mountain Seasoning Sauce, fish sauce and sugar, stir-frying to combine and cook for another 1-2 minutes until thoroughly combined. The vegetables should still be somewhat firm, not soft. Add spring onion, red chili peppers, quickly stir to combine and transfer to a serving plate. Serve hot for best taste.
Serves 3-4 with steamed jasmine rice and other dishes in an Asian family-style meal.
Welcome to the Temple of Thai online Asian grocery!
Recipe & Images Copyright © 2013 Temple of Thai