Tree Ear (Wood Ear) Mushroom

,

Unbranded

, 2.5 oz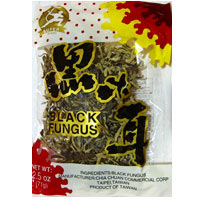 Dried Black Jelly Fungus Mushrooms (auricalaria polytricha, เห็ดหูหนู het hoo nu in Thai), also known as tree ears or cloud ears, are of Chinese origin. They are wonderful added to Asian stir-fry vegetables, soups, salads, and meats. Perhaps one of the most famous Thai dishes using this ingredient is Stuffed Chicken Wings.
When dry this fungus looks a bit like a piece of burnt paper (J. Brennan). When soaked they become black grey petals with a resilent, gelatinous texture, expanding to several times their original size. Having little flavor of their own, they absorb flavor from other seasonings in the dish, and add a delightful crunchy texture. Simply soak in plenty of water to soften, about 10 minutes, drain, cut out the small hard center and add to your dish; cook to heat through.
Store tightly covered up to one year.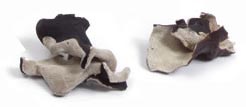 Ingredients: Dried mushrooms. Product of Hong Kong.
Availability: Ships in 2-3 business days from Los Angeles, California.
Category: Pickled & Preserved
SKU: 3321051020