Soybean Paste

,

Pantainorasingh

, 30.5 oz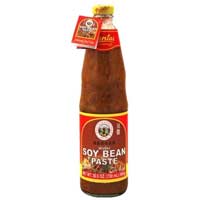 Soybean Paste (Yellow Soy Bean Sauce or เต้าเจี้ยว dtow jiow in Thai) is made from fermented crushed soybeans, wheat flour, salt and water blended into a paste. Its salty taste adds flavor to dishes like stir fry vegetables and steamed dishes such as steamed fish. Or use this sauce as a table condiment for dipping. It makes an excellent seasoning for vegetarians.
No need to refrigerate after opening, store up to one year at room temperature.
See a recipe for Mee Krob Noodles, using Yellow Bean Sauce.
Ingredients: Soybeans, wheat flour, rice flour, soy sauce, sugar, water and salt. Product of Thailand.
Availability: Ships in 2-3 business days from Los Angeles, California.
Category: Sauces & Vinegar
SKU: 5131222034