Seasoning Soy Sauce

,

Golden Mountain

, 20 fl oz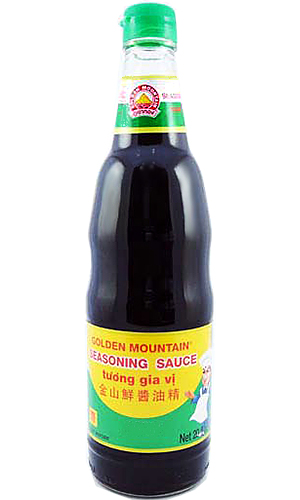 Golden Mountain is an extremely popular Thai seasoning sauce made of fermented soybeans, salt, sugar and *flavor enhancers (not MSG). Use Golden Mountain Soy Sauce in South East Asian recipes calling for "seasoning sauce" or soy sauce. This soya bean sauce is smooth and mild making it an excellent addition to stir fry vegetables, meats, tofu and noodle dishes. Golden Mountain Seasoning Sauce Green Cap has 15% protien, making it a good choice for some vegetarians.
When Asian recipes call for "seasoning sauce" this is usually the sauce intended because Golden Mountain has become the most popular brand of this type of sauce. Golden Mountain Seasoning Sauce has a deeper, somewhat saltier taste then regular Thai soy sauces and a little goes a long way (meaning you can use just one or two drops at the table). It is particularly good in spicy stir-fries like Pad Graprow. Also see a recipe using Golden Mountain Seasoning Sauce, Spicy Tamarind Shrimp from Kasma Loha-unchit.
Golden Mountain Seasoning Sauce uses two flavor enhancers but no MSG. The flavor enhancer disodium guanylate is, according to Wikipedia, "produced from dried fish or dried seaweed" and is often used in conjunction with disodium-inosinate to create the taste of umami. This flavor enhancer combination is known as disodium ribonucleotides and is not recommended for those with gout or asthma or people with an allergic reaction to asprin (see Wikipedia for more details).
Naturally Fermented: Recently we called the company, to ask about "Naturally Fermented" labeling; they said this label is usually seen on their products exported to Europe. In Europe the label almost always say "naturally fermented" because of different food import policies. For the USA, the label on the bottle does not specify "naturally fermented", but they confirmed that in fact their sauce is naturally fermented.
Also see Maggi Seasoning Sauce.
Ingredients: Soyabean meal, water,salt, sugar, add food inhancer (disodium-Inosinate & disodium-guanylate). No preservatives. Product of Thailand (Thai Theparos Food).
Availability: Ships in 2-3 business days from Los Angeles, California.
Category: Pok Pok Ingredients, Sauces & Vinegar
SKU: 5134262041