Thai Sweet Basil (Bai Horapha)

,

Temple of Thai

, 4 oz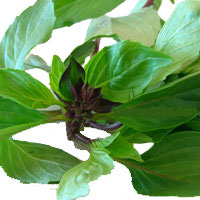 PLEASE READ PERISHABLE TERMS OF SHIPPING BEFORE ORDERING.
Sweet Thai Basil (ใบโหระพา bai horapah in Thai) tastes rather like anise, looks like European sweet basil, and is used in red and green curries, stir-fries and eaten raw as a vegetable (especially with Thai Beef Noodle Soup).
Store basil wrapped in a paper towel inside a ziplock bag. Use it soon after buying, because this herb is highly perishable and does not dry or freeze very well.
See recipes using Fresh Thai Basil: Stir Fry Chicken with Basil and Thai Curried Mousse of Red Snapper in Banana Leaf Cups (Haw Moek Plaa).
SHIPPING: Thai Basil is the most perishable item of the fresh produce that we sell. We recommend using UPS Second Day Air. Please be sure to see our Fresh Produce Shipping Terms for more details before checking out.
Ingredients: Sweet Thai basil (bai horapah). Product of USA.
Availability: Ships in 2-3 business days from Los Angeles, California.
Category: Pok Pok Ingredients, Fresh Produce
SKU: 8200000241