Thai Chili Paste with Holy Basil (6pkg)

,

Por Kwan

, 6x8 oz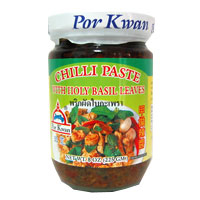 Ready-made Chili Paste with Holy Basil (bai graprow in Thai) from Por Kwan brand Thailand gives you authentic Thai taste in minutes, hassle free. The highest quality ingredients are combined to make this delicious convenient herb paste for making Thai Fried Basil dishes (pad graprow) and fried spicy noodle and or meat dishes known as Pad Kee Mao.
Buy in bulk and save. Store up to 3 months refrigerated after opening.
Also see: Chili Paste with Holy Basil Leaves, Por Kwan (single jar)
Ingredients: Red chilli, holy basil leaves, soya bean oil, garlic, salt, paprika, and natural color. No preservatives. Product of Thailand.
Availability: Ships in 2-3 business days from Los Angeles, California.
Category: Chili Pastes, Wholesale
SKU: 5533300821