Panang Curry Paste

,

Nittaya

, 17.6 oz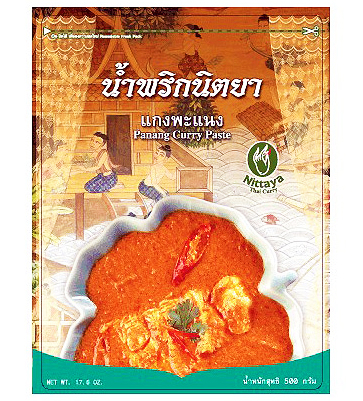 Panang curry paste is one of the many pastes based on red curry, but the recipe includes more dry spices. Panang curry is cooked with meat and no vegetables and with just enough coconut milk to cover, resulting in a dry curry dish, unlike red or green curry, which is more soup-like. The result is a curry dish full of flavor. Peanuts are also sometimes added to this dish, making it popular with foreigners.
Made with Thai chilies, shallots, garlic, galangal root, lemon grass, shrimp paste, salt, and kaffir lime peel, Nittaya brand curry paste is preservative-free and freshly packaged. This brand of curry paste is imported and flown in directly from Bangkok to the USA by TempleofThai.com. Nittaya brand curry pastes have been recommended by both New York Magazine and Epicurious.com.
Also see Nittaya brand Green Curry Paste, Red Curry Paste, Masaman Curry Paste, Yellow Curry Paste and Roasted Chili Paste in Oil.
See a video recipe for Panang Curry Beef from Thai Food Tonight:
Ingredients: Chili, garlic, spices, lemon grass, salt, shallot, kaffir lime peel, galangal and shrimp paste. Product of Thailand.
Availability: Ships in 2-3 business days from Los Angeles, California.
Category: Nittaya Curry Paste
SKU: 2141040253