Thai Apple Eggplant

,

Temple of Thai

, 8 oz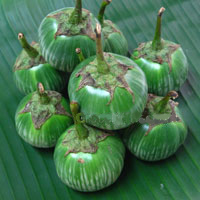 There are many varieties of eggplant in Thailand. These delicious green and white round golf-ball sized eggplants (makeau prau in Thai) are served raw and crunchy or steamed until soft alongside spicy curries or on a mixed platter of raw and cooked vegetables and herbs in Thailand. Dip these eggplants raw or cooked into Nam Prik, a homemade spicy chili paste, for a really authentic Thai taste. These miniature eggplants are also commonly added to Green Curry and cooked until soft.
Once cut eggplant turns brown quickly, so it is best to prepare just before serving, or toss in lemon or lime juice to prevent darkening. Store cut eggplant in water with a drop of vinegar or lemon juice and salt, which will also help remove some bitter flavor. Store 1 week refrigerated or freeze whole for longer storage.
PLEASE READ PERISHABLE TERMS OF SHIPPING BEFORE ORDERING.
Ingredients: Thai eggplant. Product of USA.
Availability: Ships in 2-3 business days from Los Angeles, California.
Category: Pok Pok Ingredients, Fresh Produce
SKU: 8200000242