Thai Green Curry with Beef Recipe (Gaeng Kiaw Wan Neua)
Green Curry tends to be one of the milder curries of Thai cuisine. The name Gaeng Kiaw Wan literally means 'sweet green curry' but if you prefer a spicy curry, simply increase the amount of fresh green Thai chili peppers in the curry paste recipe. This recipe features beef but it could also be prepared with chicken, pork or fishballs. Serve over steamed jasmine rice, accompanied by crispy fried fish, a cooling clear soup (gaeng joot) and Thai chili paste (nam prik) with fresh steamed or raw seasonal vegetables.
Ingredients
Preparation
Slice the beef into thin pieces, about about 1/3" (3 cm) thick.
Saute the green curry paste in oil over medium heat in a wok or saute pan until fragrant, reduce the heat, gradually add 1 1/2 cups of the coconut milk a little at a time, stir until a film of green oil surfaces.
Add the beef and kaffir lime leaves, continue cooking for 3 minutes until fragrant and the beef is cooked through. Transfer to a large pot, place over medium heat and cook until boiling. Add the remaining coconut milk, season with palm sugar and fish sauce. When the mixture returns to a boil add the eggplants. Cook until the eggplants are done, sprinkle sweet basil leaves and red chilies over, then turn off the heat.
Arrange on a serving dish and garnish with sweet basil leaves and red chilies before serving.
Note: *Miniature red bell peppers or other mild red pepper may be used in place of the spur chillies.
Also See:
The recipe and images are reproduced from Popular Thai Cuisine and used with permission from Sangdad Publications. 'Popular Thai Cuisine' is available for purchase in our cookbook section.
© 2002 Sangdad Publications
Preparing Thai Green Curry from 'Popular Thai Cuisine'
Comments about this Green Curry recipe: I finally managed to satiate my craving for Thai Green curry last night by cooking it myself using the recipe that I found on the Temple of Thai. It was awesome! It was thick, spicy and most importantly of all, green. In some places, I've seen that the green curry was not green but instead, it was yellow. Strange don't you think? Anyway, the curry was a success and approved by all. (Source: Oh Look, Krill! Blog)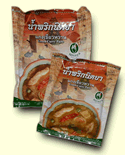 Preparing your own curry paste for a truly tasty Thai curry is time consuming and not always possible. So if you need your curry in a hurry and don't wish to compromise on taste, we recommend our ready-made
Nittaya brand Green Curry Paste
.
Nittaya is a quick and simple alternative - it's the best prepared curry paste we've tried and as a fellow curry lover we're sure you'll agree.