Coconut for Coconut Milk

,

Product of Thailand

, 2-3 lbs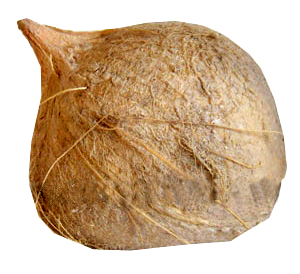 This type of Coconut is used for making fresh Coconut Milk and Coconut Cream. As the coconut matures from a young green nut to brown, the white meat inside becomes hard. While young green coconuts are enjoyed for their soft flesh and sweet juice, these mature brown coconuts are used for making fresh coconut milk and coconut cream. Young coconuts are usually served chilled, with a spoon and a straw, while brown coconuts are cracked in half and grated. The grated flesh is covered with water, palpitated to squeeze out the milk and oil and then strained. The result is coconut milk and/or cream for making Thai curries, soups and desserts. See our Coconut Milk Recipe for details.
For making Coconut Milk in the old-fashioned way you will need a Coconut Grater.
PLEASE READ PERISHABLE TERMS OF SHIPPING BEFORE ORDERING.
Ingredients: Fresh mature coconut.
Availability: Ships in 2-3 business days from Los Angeles, California.
Category: Fresh Produce, Coconut Milk
SKU: 8500000421