Thai Soup & Recipes
Serving Thai Soup
There are numerous Thai soup recipes. Soup is eaten almost daily, as an accompaniment to a Thai meal. Unlike in the West, it is not served as a first course, but is served with all the other dishes on the table. In Thailand, at a family-style meal, everyone shares from the serving bowl, by spooning some of the soup into his own spoon.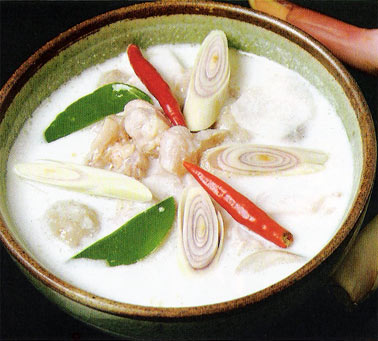 Cooking Thai Soup
Thai soups are not only easy to make, but also healthy. Fresh herbs like lemongrass, galangal root and fresh chilies are common ingredients. Cooking time is short, unlike soup recipes from other parts of the globe. With shorter cooking time, vitamins are retained and preparation time is reduced.
Types of Soup in Thailand
Water-based soups in addition are low in calories and fat. Coconut milk based soups are more substantial and complement fresh ingredients like shallots, garlic, and kaffir lime leaf perfectly. This is especially true for Tom Kha Gai, which melds together coconut milk with chicken accented with Thailand's most famous fresh herbs and spices.
Other popular soups in Thailand, that are less well known in the West include: clear glass noodle soup (gaeng joot woon sen), noodle soup with beef (gway dee-oh neaua), beef soup (neua tun), wonton soup with pork (gio nam moo), pumpkin coconut soup (fak tong gang ka ti), rice soup (kao tom), prawns and bamboo shoots in coconut milk (goong ga-thi naw my soht) and pork stuffed bitter gourd soup (gaeng jued ma-rah).
Spicy soups are well loved of course by both Thais and non-Thais and include: hot & sour shrimp soup (tom yum goong), hot & sour chicken soup (tom yum gai), hot and sour seafood soup (tom yum taleh), spicy seafood soup (po taek), chicken soup with dried mushrooms (gai dtohm hed hohm), pickled cabbage soup, and five-spice (palo).
At home you may want to serve soup as a starter which is fine, because Thai cuisine is infinitely adaptable.


No time to make your own soup?
Visit our grocery store for ready-made Thai Soup.