Young Coconut (Green Coconut)

,

Imported from Thailand

, 4 pc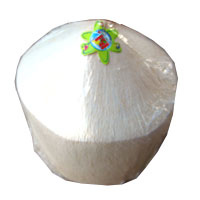 Coconut Water from these Young Green Coconuts makes a delicious and healthy drink. Enjoy the highly refreshing, 100% natural pure coconut juice with no added sweeteners and naturally high in potassium and vitamins.
Young Green Coconuts (maprow awn in Thai) are popular for the soft white flesh inside as well as the clear, sweet water like juice. Temple of Thai young coconuts come in a pack of four and already have the green outer shell removed.
Left on the tree, these coconuts would become the more familiar mature brown husked coconut used for making coconut milk, at which point the clear water inside is usually discarded as it is no longer sweet.
Young Coconut Juice is considered to be very healthy and is cooling, loaded with electrolytes and high in potassium. You can chill them in the fridge prior to opening to enjoy in your hammock on a hot summer day.
Our young coconuts already have the outer husk shaved so opening is easy. Open with a sharp, heavy cleaver by making four swift blows to the top to cut a square that can be removed to gain access to the juice and the flesh inside. You can drink straight from the coconut using a straw or decant into a glass. The flesh can be scraped out with a spoon while others prefer to cut the coconut in half to make the flesh more accessible.
Also see Young Coconut Meat.
This is a perishable item. To ensure freshness, please select UPS 2nd Day Air. Please read our Terms of Shipping. Customers who live in California, Nevada, Arizona can select UPS Ground. We ship this product at the beginning of the week only. If you are concerned about how this type of fresh coconut is preserved for shipping, see this site (outside link).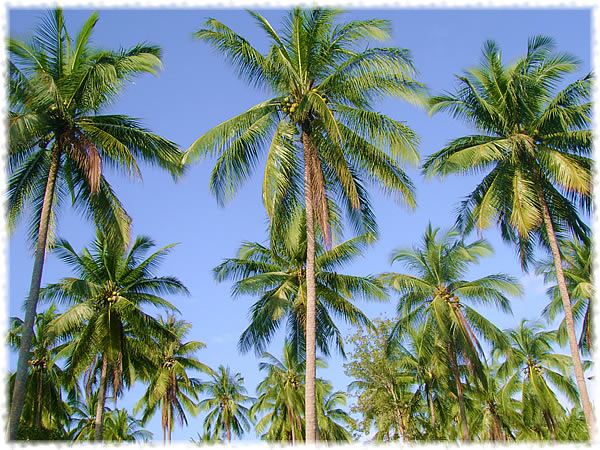 A coconut plantation on the island of Koh Samui, a coconut producing island in the Gulf of Thailand.
Ingredients: Fresh Young Coconut. About 2.5lbs per coconut. Product of Thailand. Shipped at the beginning of the week only.
Availability: Ships in 2-3 business days from Los Angeles, California.
Category: Fresh Produce
SKU: 8500000310